resources
Oral Health Care
Did you know that cavities are one of the most common chronic diseases of childhood in the United States? Untreated cavities can cause pain and infections that may lead to problems with eating, speaking, playing, and learning. Children who have poor oral health often miss more school and receive lower grades than children who don't. That's why it's so crucial for children of all ages (even babies) to maintain proper oral health care. This even starts as early as pregnancy. Here are some easy steps for a lifetime of excellent oral healthcare…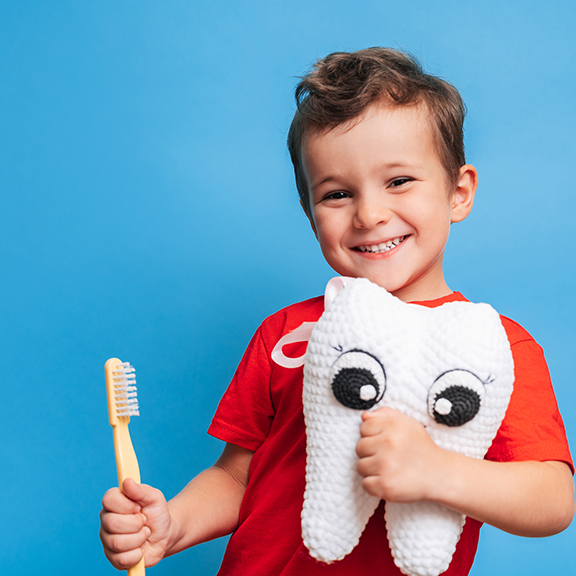 Many families in the community need resources to help maintain their healthcare needs. FIRST 5 partners with The Healthier Kids Foundation to provide oral health education and connect families to dental insurance and dental clinics. For more information on The Healthier Kids Foundation please visit: https://hkidsf.org
SmileFirst Oral Education provides interactive and informative presentations to all ages about oral health, dental hygiene, and preventing tooth decay in young children as well as the whole family. The program offers free 30-minute informative workshops for parents and caregivers available in English, Spanish, and Vietnamese via Zoom. For more information about SmileFirst or if you're interested in attending an oral health workshop, please email [email protected], or call 408.600.3588.
The DentalFirst program screens children 6 months to 18 years old for undetected dental issues and assists them with accessing follow-up dental care utilizing licensed dentists. For more information on DentalFirst, please contact [email protected], or call 408.564.5114.
If your child has health coverage through Medi-Cal or a Covered California health plan, they also have dental coverage and can go to the dentist for regular checkups and care.
COVERED CALIFORNIA: Contact your health plan to find a dentist or to learn more about your dental care options. For more information, visit www.coveredca.com or call (800) 300-1506.
MEDI-CAL: To find a dentist that accepts Medi-Cal, call (800) 322-6384, or look online at dental.dhcs.ca.gov.